Detailed description
Experience unique feeling of peace and natural beauty in the green "VILA MARIJA", ONLY 5 MINUTES FROM CENTER OF THE TOWN and convince yourself that we have the most beautiful rooms in Zagreb with LOWEST PRICES (CHEAPEST ACCOMMODATION IN ZAGREB - ROOMS FROM 150 kn / 21 €) For your pleasant and safe stay caring staff "Vila Marija". Mary and John Družinec
Accommodation units
Room
ID:5736
Accommodation for two persons (0 m2)
TV
Air condition
Satellite TV
Breakfast
Bathroom
Smoking allowed
A2
ID:5737
Apartment for two persons (50 m2)
TV
Air condition
Satellite TV
Breakfast
Bathroom
Kitchen
A2+1
ID:5738
Apartment for two persons with extra bed (0 m2)
TV
Air condition
Satellite TV
Breakfast
Bathroom
Pets allowed
A2
ID:5739
Apartment for two persons (55 m2)
TV
Air condition
Satellite TV
Breakfast
Bathroom
Kitchen
A2
ID:5740
Apartment for two persons (55 m2)
TV
Air condition
Satellite TV
Bathroom
Kitchen
Smoking allowed
More information
Distances
Downtown:

5 km

Groceries:

100 m

Restaurant:

300 m

Doctor:

100 m

Pharmacy:

100 m

Bank:

2 km

Post office:

2 km

Gas station:

2 km

Bus station:

6 km

Train station:

6 km

Airport:

15 km

Sport activities:

1 km

Disco club:

1 km

Casino:

300 m

National park:

2 km
Map view
Apartments Vila Marija listing has been viewed 52942 times since 24.03.2010.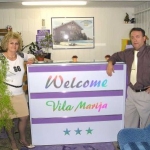 Ivan i Marija Družinec
Speaks:

Croatian, English, German, Italian,
Lat: 45° 50' 9.2" (45.835890)
Lon: 16° 2' 12.89" (16.036914)
Downtown: 5000m
Groceries: 100m
Payment and terms
Residential tax is included in price.
We accept reservations via e-mail or phone, in case of change of arrival and the same cancel at least a day earlier. Also, it is necessary to once again confirm the arrival the day before, if the date of arrival far from the day when the book accommodation. For all bookings made more than two weeks in advance, it is necessary to pay an advance on our bank account and a half or whole iznos- depending on the agreement with reception. Payment is in cash upon arrival - cards are not accepted! Minimum check-in rooms and apartments is from noon onwards until the check-out up to 10 h. Check-in time at the spa is after 16 pm and check-out is approximately 11 h.